Enjoy a family day in the water park, in the area there is a variety to choose from. To go to any of the water parks near Nerja, you will have to travel. The water parks closest to Nerja are these:
1.- Aquavelis Torre del Mar. (A 35km de Nerja).
AQUAVELIS water park, in Torre Del Mar – Velez Malaga. It is a freshwater water park, like most parks, only open in the summer months. It is a few km from Nerja, it is possible to go by car, bus or taxi. Fun is guaranteed. There is a restaurant area in the park, so you can spend the day without problems. It is also a few meters from the EROSKI shopping center in Velez Malaga.
You will find Aquavelis between Torre del Mar and Velez Málaga, next to the El Ingenio Shopping Center.
Attractions – Aquavelis offers you a wide variety of attractions, gardens and picnic areas. There are eight slides, including two rapids and one for children. There are also two large pools, one of which is a wave pool. The children's area includes its own children's pool and slides. Try the 'Kamikaze', and let yourself slide down its almost 80 meters of almost vertical slide.
Services – Two small shops, cafeteria, hamburger restaurant and an ice cream and candy kiosk.
Prices – Prices are set according to height. Adults (over 1.40m) € 22.50, Junior (1.10m to 1.40m) € 16.50, Minis (0.90m to 1.10m) € 12, Seniors (over 65 years) 16 , € 50.
Más información sobre este texto de origenPara obtener más información sobre la traducción, se necesita el texto de origen
Opening season – June to September. Check here the schedules.
Discounts – From 4:00 p.m. onwards, discounts of approximately 40% are discussed.
Web: www.aquavelis.es
2.- AquaTropic Almuñecar. (A 25 km de Nerja).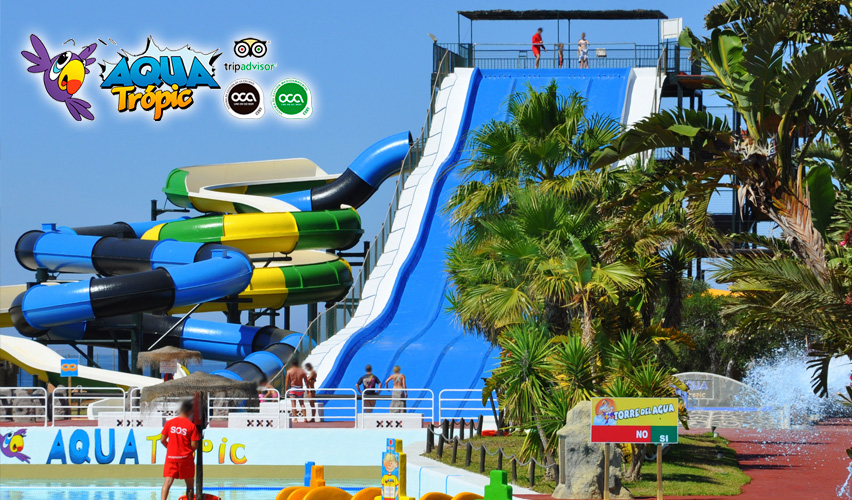 AQUATROPIC water park, in Almuñecar (province of Granada). This water park is salt water. Since it is located in an enclosure next to the beach. It is the same distance from Nerja as the AQUAVELIS.
Aquatropic has an area of 35,000 m² and is located on Playa de Velilla (Almuñécar), on the beautiful Costa Tropical. The charm of this water park is that it is located on the beach itself and is the only one with salt water in Spain.
Attractions – Aquatropic has just expanded its facilities with three new attractions recently. It includes six long slides, a water tower, a wave pool and a new Jacuzzi area. There are green areas and picnic areas.
Services – Changing rooms and lockers, children's play area, ice cream parlor and a restaurant with grilled meat and fish. You will also find a small kiosk to buy snacks and a souvenir shop.
Prices – Adults € 19, juniors (12-15 years) € 16, children (4-11 years) € 15, senior (+65 years) € 15
Opening – Open from June to September from 11 a.m. to 7 p.m.
Discounts – Discounts applicable only in the afternoons. Adults € 13, juniors € 12, children € 11 and seniors € 11. There are family packs and discounts for groups.

Bus Nerja Aquatropic
3.- Aqualand Torremolinos. (A 85km de Nerja).
The largest and oldest park of the three. Aqualand Torremolinos is part of a chain of water parks with 13 parks in Europe. It is located in the center of Torremolinos and is the most popular of the three.
Attractions – An area of more than 70,000m2 with gardens, slides and swimming pools. In total there are 19 slides for adults and 15 for children.
Services – All. There are three kiosks where you can buy sandwiches, pizzas and hamburgers and a restaurant with an à la carte menu. The cheapest option is to take your own picnic from home, but remember, no glass!
Prices– Adults € 28, children (4 to 12 years) € 19, Minis (3 to 4 years) € 10, babies free.
Opening – Aqualand is open from June to September. Check here the schedules.
Discounts – You will get more than 10% discount buying your tickets online. Recommended during weekends to avoid long queues at the entrance.
4.- Aqua Mijas. (A 101 km de Nerja).
The Mijas Aquatic Park is the smallest of the three. Perhaps it is also the most comfortable to go with young children. Located in Mijas, just off the Fuengirola ring road, the Mijas Water Park is also the least crowded.
Attractions – There are five slides in total, and a mini golf area, climbing wall, and several hot tubs are also included. Like the other parks, there are also picnic areas and gardens.
Prices – Adults € 23, Juniors (8 to 12 years) € 17, children (3 to 7 years) € 12.
Opening – Aquamijas opens from April to the end of September. Check here the schedules. Discounts – From 3.30pm (2.30pm in low season) a 30% discount is applied to your ticket. If you buy your ticket online, you will get a 10% discount. Discounts are also available for families and groups.