When to go to Nerja, when to travel, climate, environment, beaches. This is just a recommendation, based on the opinions of other travelers and visitors. Nerja is a fantastic city that can be visited at any time of the year. But there are always pros and cons. Better dates and worse depending on the point of view of each person. Here we help you make a decision.
The cheapest time to visit Nerja? . If you're looking for a break, a few days of getaway in Nerja, a cheap accommodation in Nerja, and travel without spending a lot. Do not hesitate, November, December, January and February , are the best months to spend little on accommodation. Also the dates with less people in the streets. Nerja is very calm. It's low season in Nerja, and it's an ideal time to come and study languages ​​in Nerja, escape a month of relaxation, take an adventure and sunbathe on the beaches. We remind you that the sun lives in Nerja .
When are there more people, better environment, and better weather in Nerja? Undoubtedly, Second half of JULY and first fortnight of AUGUST. It is the month with the highest number of visitors, when the streets are crowded, and Nerja is in full swing. High season par excellence. If you plan to travel or visit Nerja in August you just have to take into account some factors. The best thing about traveling in August is the atmosphere, full streets, full bars, excellent temperature (to go without a shirt ), but you should also keep in mind. August is the MOST EXPENSIVE MONTH to stay in Nerja, the price is usually double or triple that in low season depending on the accommodation booked. You will have to arm yourself with PATIENCE TO ASK in many restaurants, tapas bars, beach bars and discos. Not because they do not treat you well. (which is not usually the case, since there are many professionals), but because of the amount of tourists that fill the bars, queuing to eat, tapas in Nerja, or ask for a drink when you are on the move. The beaches are at 110% capacity, so it is difficult to place a parasol or a towel on the most famous beaches of Nerja.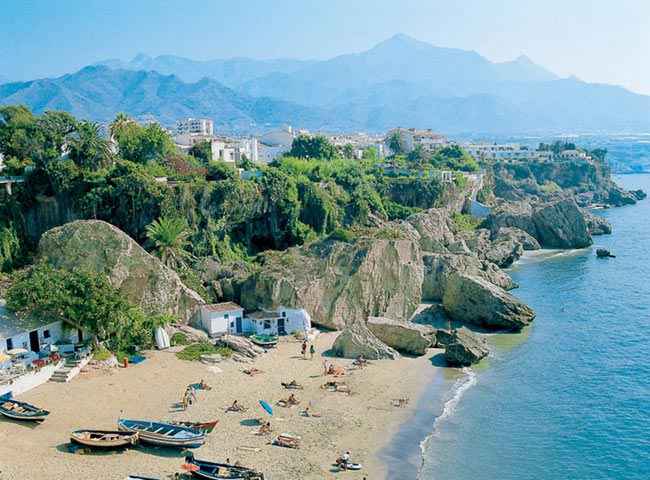 The summer months are very hot and humid. If you go from July to August it is best to always have a couple of euros loose in the purse to order a good cold beer at any bar in Nerja, when we walk through the center.
The winter months are usually NORMAL, I say normal because there are no COLD months in Nerja, there are only cold temperatures in some weeks of winter. And they are only passing times. With snowfall at some points, so it is advisable to take warm clothes, and if you like trekking or walking on the mountain, prepare some boots to see the sea from the snowy mountains of Nerja.
The months of April, May, October and November are the softest and cleanest. And the temperature is usually very good, do not forget to bring something warm especially for the nights. But during the day, you will not have problems to lie down in the sun on burriana beach :-), or take a bath to cool off in any beach in Nerja.
Between the end of March and April, the tourist season begins, so it is a good time to have your reservation formalized. Normally people who decide to spend their holidays in Nerja, book many months in advance, to be able to find hotels in Nerja, or cheap apartments in Nerja.
September is a good month, many people leave, new ones arrive. And the change, the streets are more clear, the beaches too. And the temperature is the same as in August.
When is the best time to visit Nerja? Here you have information that will help you make a decision about the average temperature and rainfall values in Nerja . All these are estimates referring to the last years:
The best months to have good weather in Nerja are March, April, May, June, July, August, September, October, November and December.
July and August are the warmest months of the year.
Nerja has dry periods in July and August.
The coldest months are January, February and December, and are usually the wettest months.
The best months to bathe on the beaches are June, July, August and September
Between the months of January and February the weather is simply good. For example, 16 ° C is the maximum temperature in February and it rains about 28% during February.
Between March and April the weather is splendid. The temperature rises to 22 ° C and it may rain a little some day.
Between the months of May and June the weather is very good. The record temperature this month is 30 ° C / 35 ° C.
Between July and August the weather is splendid. At dusk the average temperature is 30 ° C / 35 ° C.
Between September and October the weather is very good. The average temperature is 25 ° C / 30 ° C. October usually rains a week.
Between November and December the weather is splendid. For example 15 ° C / 25 ° C
If you have any questions, you are planning your trip to Nerja, or you want us to send you some recommendations. You can leave us a comment. We will be happy to help you. ?